After two years of hard work by engineers, each function of the test, Olys technology in the latest listing of a RV dedicated solar charge controller.

The main functions are as follows:
1, dual battery charging
2, the display shows the working status of the solar system, at the same time with Bluetooth
3, mobile APP can view the system's technical parameters
4, the charge and discharge controller for lead-acid, gel, lithium battery.
5, automatic unattended charging. With overload, overheating, reverse current protection (cloudy or no sunlight at night, to prevent the battery back to the solar panel)
6, overcharge protection. When the battery is full, the charging current will be reduced, when the battery is dead, it will immediately charge the battery
7, automatic temperature compensation function. Ensure the battery in the low temperature or high temperature environment, the use of the best power supply parameters to extend battery life
8, product specifications 10A and 20A. Respectively, for the maximum 165 and 350W.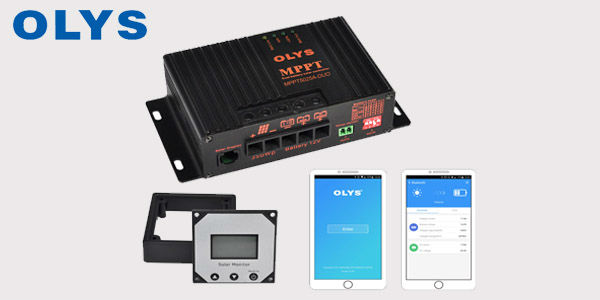 Related product
MPPT Dual Charge Solar RV regulator
Related article

Home solar RV controller components and controller selection

OLYS company focus on solar cherge controller , solar kits and rv solar regulator in China for 12 years.Wwe are professional produce, design and development solar charge technology, had served 300 companies all over in the world.

If you have any interests to this , please send mail to us :sale2@olys-digital.com