Dual charging solar controller functional introduction

Solar controller called solar charge and discharge controller, is to control the multi-channel solar battery array charge and discharge management of equipment, but also the solar power generation system, the core of a component. Olys has developed a dual charging solar controller

Features:
1 for cars, ships, navigation, communications and so on.
2. This product is only applicable to 12V system.
3. The product uses intelligent industrial-grade microcontroller design, all the workflow are software-controlled, enabling high-precision, high reliability.
4. Using the leading three-phase PWM charging controller technology, two sets of battery can be charged at the same time.
5 with a full range of electronic protection, short circuit, overcharge, reverse and other protective measures.
6. Three LED status indicator, the user can clearly understand the two batteries and battery charge status.
7. Suitable for lead-acid batteries (including colloids, AGM, liquid batteries).
8. circuit boards are moisture-proof treatment, you can apply the harsh weather conditions.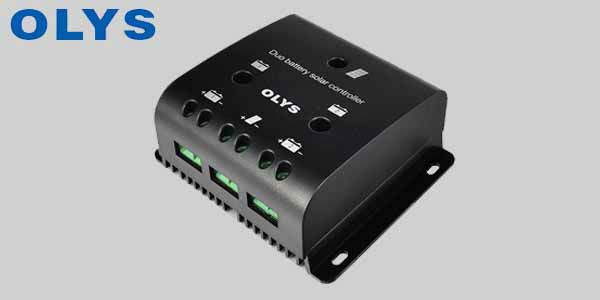 Installation Precautions:
1. It is recommended to install the product indoors, avoid direct sunlight, if it must be installed outdoors, please do a good job of rain prevention measures.
2. Make sure the controller is not blocked by other objects around, affecting the heat dissipation. Keep the surrounding items at least 15cm from the controller.
3. The bottom of the controller is a heat sink. Do not install it on objects that may easily catch fire. Otherwise, fire or property damage may occur.
4. The controller has reverse polarity protection function, but please avoid the solar panel and battery at the same time reverse, or it may cause damage to the machine.
5. The wires connecting the battery and the solar panel must meet the following specifications.
Technical Parameters:
Model: DBC10
Rated voltage: 12V
Rated charging current: 10A (for solar panels within 160W)
Strong charge voltage: 14.5V
Float voltage: 13.7V
Charging switching voltage: 12.8V
Charging method: PWM
No-load current: 4mA
Operating temperature range: -40 ℃ ~ +50 ℃
Weight: 270g
Overall dimensions: 118 × 105 × 50mm
Protection level: Ip22
The above information provided by the Shenzhen Olys Technology and Technology.
Shenzhen Olys Technology 12 years focused on the development and manufacture of solar controller, master the core of solar energy controller, cutting-edge technology, service more than 300 new energy companies.
If you have in terests for solar charge and have any concern , please send mail to Anna:sale2@olys-digital.com, Whatsapp:+8615367961529
Related product
Related article