Starting from the client's request that we develop a market-competitive MPPT solar RV regulator, the technical department begins technical analysis and develops a product development plan. It starts with the working principle, circuit design, component selection, mold development, Prototype continuous full power test, no size. After half a year's time, we have finally completed all preparations before mass production and are now officially mass-produced。

Product description:
RV MPPT controller models we are MT165DUO and MT350DUO, respectively 10A and 20A, is currently two models, basic to meet the needs of RV users.
Dedicated to the RV, ship, sailing and other outdoor solar power system.
Automatically adapt to 12V and 24V systems.
Dual rechargeable solar controller can charge two batteries at the same time, suitable for lead-acid, gel, lithium battery.
Using MPPT charging method, with high precision temperature compensation.
Overcharge, electronic short circuit, overload protection, anti-reverse protection and other unique automatic protection control, the above protection are not damaged any part.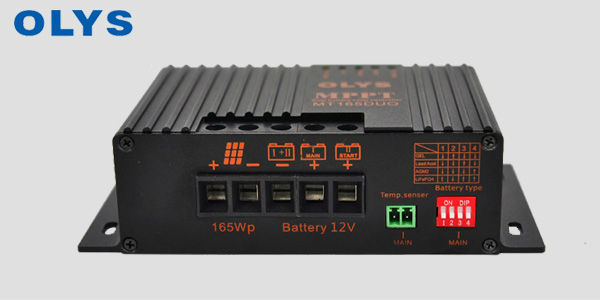 Shenzhen Olys Technology Co., Ltd. specializes in solar controller research and development, production and sales. Already has 12 years of rich experience, customers all over the world. Is a trusted supplier of photovoltaic systems!
The above article provided by Shenzhen Olys Technology Co., Ltd.
Reproduced please indicate the source, thank you!
If you have interests to this , please send mail to us:sale2@olys-digital.com。
Related product
Solar Charging Controllers for camper

Related article
solar RV regulator new Technology product